Audiobooks
The Homer Public Library owns over 1,000 audiobook titles, on both CDs and cassette tapes. Audiobooks circulate for 14 days, and can be renewed up to 2 times (as long as the item is not on hold for another patron). Overdue fines are $0.15/day. Audiobooks are a multi-tasker's dream come true.
Fiction bestsellers
Classic literature
Nonfiction on a variety of topics
Biographies
Foreign language materials
Great Courses on CD – the adventure of learning without the homework or exams
More…
Is there a specific audiobook you'd like the library to carry? Feel free to email your purchase request to library@ci.homer.ak.us.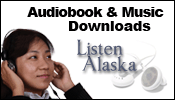 Downloadable Audiobooks, eBooks & Music at Listen Alaska
Download, digital audiobooks, music and e-Books to a computer or other compatible devices for viewing or listening on the go! This service is free for patrons with their library card and PIN. Please contact a librarian for your PIN. With download media available 24/7, your library is always open!