Volunteer at the Library
We depend on our dedicated volunteers! Each week hundreds of books are shelved, mended and made available to the public thanks in part to the hard work of people who donate their time and skills to assure its success.
If you're interested in becoming a volunteer you can click on the link below to access our volunteer application. If you have further questions please call our volunteer coordinator at (907) 435-3165.
Application and Interview
Anyone interested in volunteering at the Homer Public Library should fill out a volunteer application and return it to the circulation desk. The volunteer coordinator will then call to set up a time for an interview. Your training and schedule will be determined by the opportunities currently available within the library as well as your personal interests.
Volunteer Program
As an HPL volunteer, you will be able to ...
Acquire new skills and gain work experience
Serve your community
Keep up with the latest library materials
Support literacy and life-long learning
Expectations
Our expectation is that volunteers work in a manner that reflects positively on our library and is consistent with HPL policies.
Volunteer Jobs
There are many jobs for volunteers at the Homer Public Library. Ongoing work includes shelving library materials, mending or cleaning books, shelf-maintenance and processing new materials. If you are interested in any particular area please specify your job preference on the volunteer application. Occasionally a special program or project requires the help of volunteers and we will keep a list of those willing to be called as needed.
Our Volunteers Are Awesome
Compared to similarly-sized communities in Alaska, our volunteers log four times more hours! We couldn't provide the services we do without our super team of volunteers! Thank you!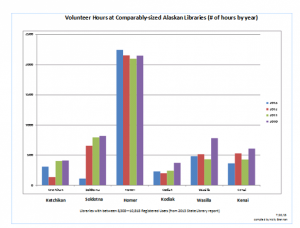 (Click on graph to view PDF)